My goal for this project was to create a family friendly guide to Zion National Park in Utah. I started by designing a recognizable icon set, and then used my personal experience and research of the park to expand my guide. The final product is a wooden book cover in the shape of the iconic Angels Landing with a removable paper guide for use out in the park. I also created a set of laser cut pins to match.
Early Prototypes
This is an early prototype showing the guide attached to the cover, but through this process I discovered that there needed to be an easy way to take the information in a backpack on a hike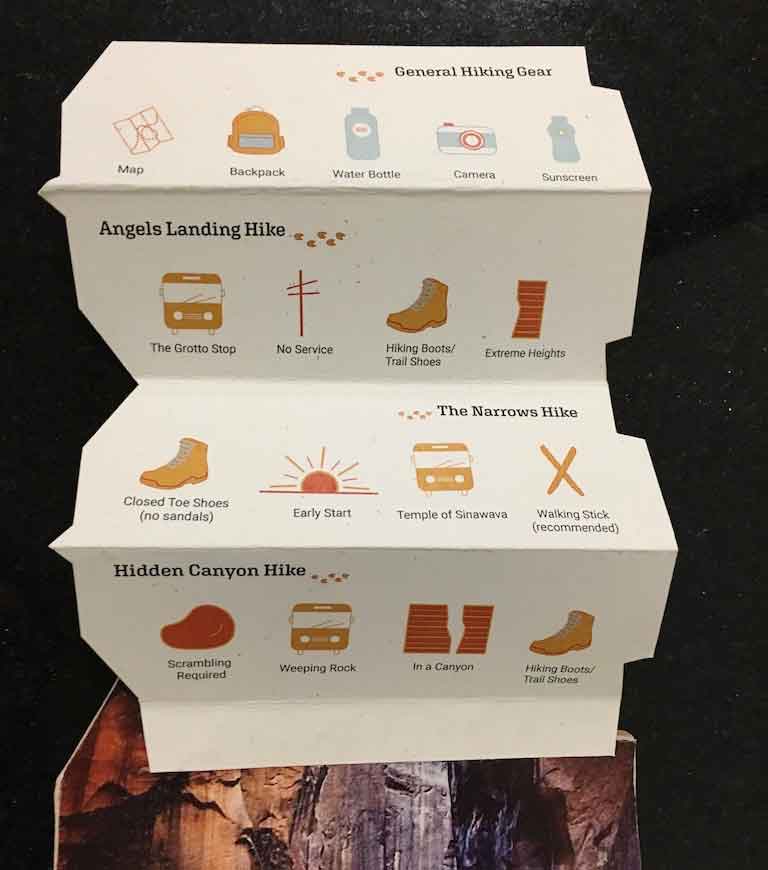 Final Spreads
These are the final spreads for inside the removable pamphlet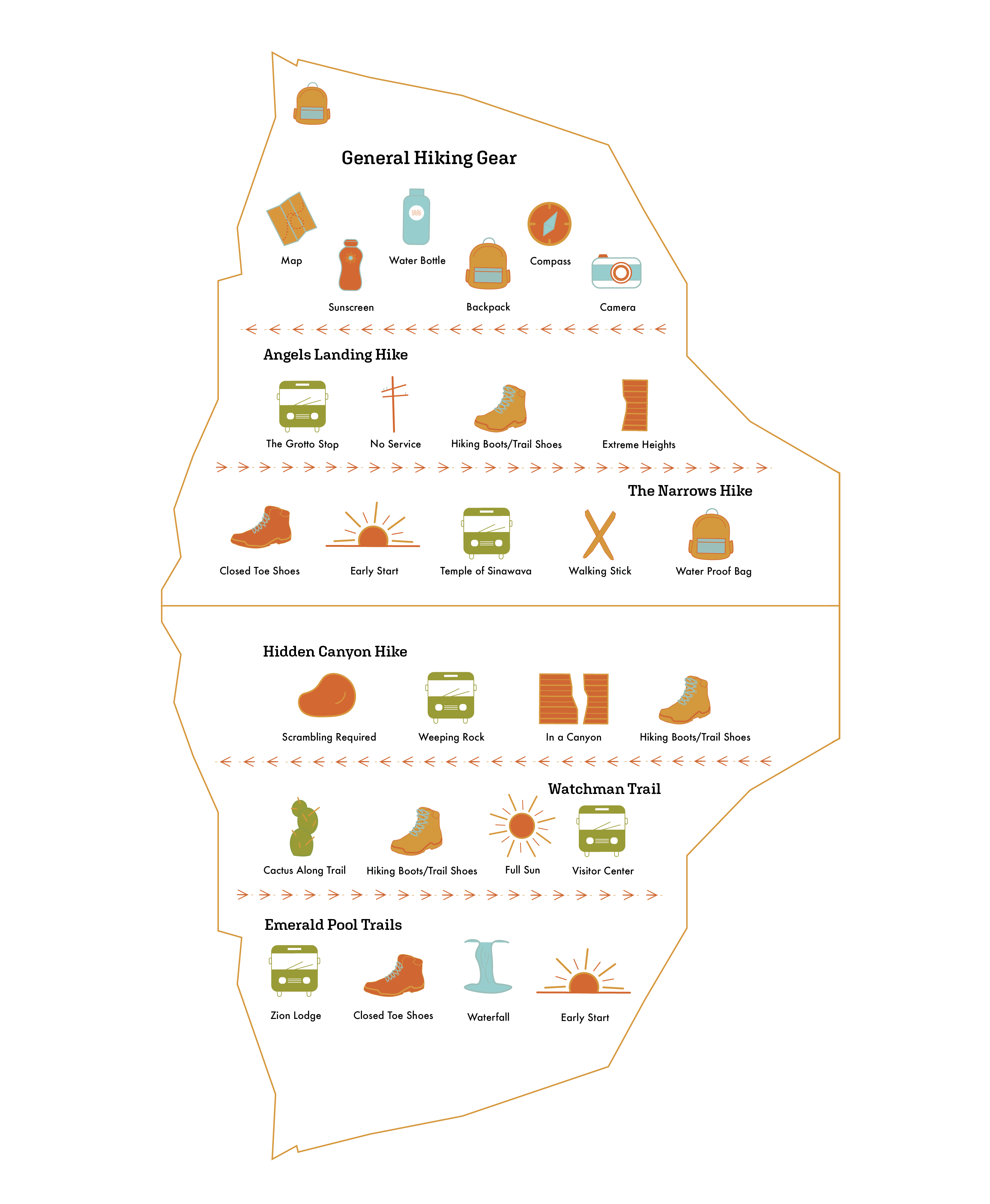 This project is a deep dive into the world of Tinder to discover how online daters use dating applications and what they are looking for. Our goal is to encourage young Tinder users to see past immediate stereotypes and make meaningful connections. The proposed solution takes a physical as well as virtual form and was inspired by Tinder's biggest competitor, Bumble, in order to re-assert Tinder as the most popular dating application.
** This project was completed with the help of a team of designers including

Alexis Garcia

, Jessica Wu, and Natalia Elizondo
Our research process looked into a broad range of dating app users to better our understanding of what users are looking for when using dating applications. We took both a qualitative and quantitative process. We interviewed college students (ages 18-23) who have used dating apps and collected data with an anonymous survey. Our biggest takeaway from our research was that users restrict their discovery of potential partners due to their idea of what they don't want.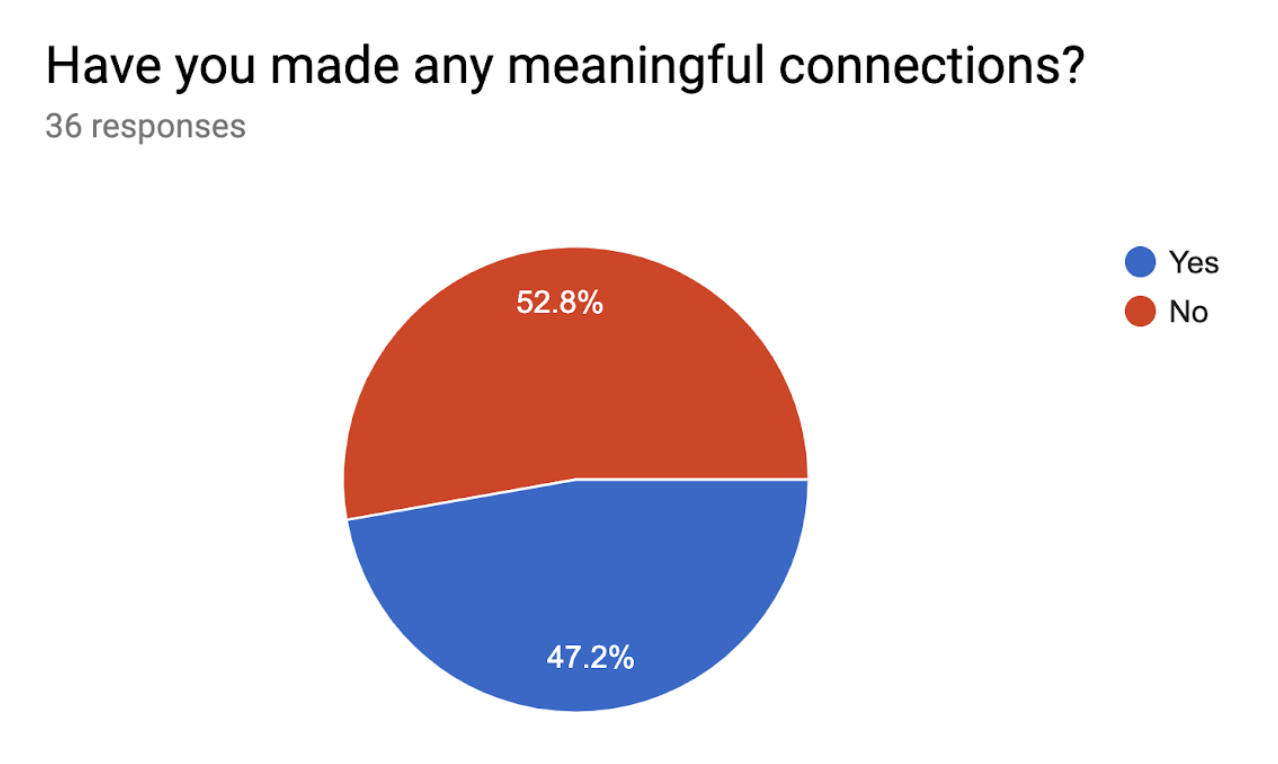 On tinder, there is a tendency of judgement that impedes genuine connection. People stereotype based on photos they associate with a certain type of person, leading to a narrow search and lack of discovery of people different from them that they could connect with. Many assume that connections made online are less legitimate than connections made in "real" life and many expect to find people only looking for a "hookup."
Proposed Solution:
We proposed a "question of the day" feature to inspire unlikely connections between users. Users will answer questions and be matched anonymously with someone by their responses. Once matched they will have a short conversation before receiving their matches profile. Our goal is to increase discovery, promote conversation, and minimize the amount of stereotyping on the application.
To solve the stigma surrounding relationships that are built from tinder, we also proposed to create a travelling pop-up that will promote the new "question of the day" feature, and additionally provide a safe, fun place for tinder dates.
dfs

Questions of the Day:
Mystery Match Reveal (in app):
Pop-up Proposal:
To promote Tinder and the latest
Mystery Match
feature we will do bi-monthly surprise pop ups across the nation. Select cities have been chosen to be home to a mural or semi-permanent installation created by a local artist. Alongside the unveiling of the art exhibition, an exclusive tinder users only event will occur nearby.
Pop-ups would be announced both in-app and on instagram a week before the event would occur. There will be a countdown to the event on instagram and each post will reveal a detail about the upcoming pop-up.
The First Annual American Institute of Graphic Arts (AIGA) at UT poster show was originally intended to be in person event. After the Covid-19 outbreak we had to get creative. The show's form translated to an digital format and a way for students to express their feelings in quaratine. AIGA Presents:
THE POSTER SHOW

My biggest responsibility for this project was the creation of the website to feature the work of 33 student posters. The burnt orange color not only represents the University of Texas chapter, but the uneasy transition to an online world. In addition to the website, I ran the social media campaign to promote the show.



In addition to designing the show, I designed my own poster for the show using a typeface I designed. The vibrating nature of the type is meant to indicate the chaos I felt moving back home suddenly as well as the sentiment of feeling like I needed to grow up fast.


My fellow collaborators on the AIGA UT Board:
President:
Annette Hui


Vice President:

Alexis Garcia


Content Creator: Jocelyn Yun
Cathy Manning contacted me to re-design her photography portfolio + shop
website
and logo to elevate her work as she was being signed by a gallery. My aim was to let her photography be the star of the show.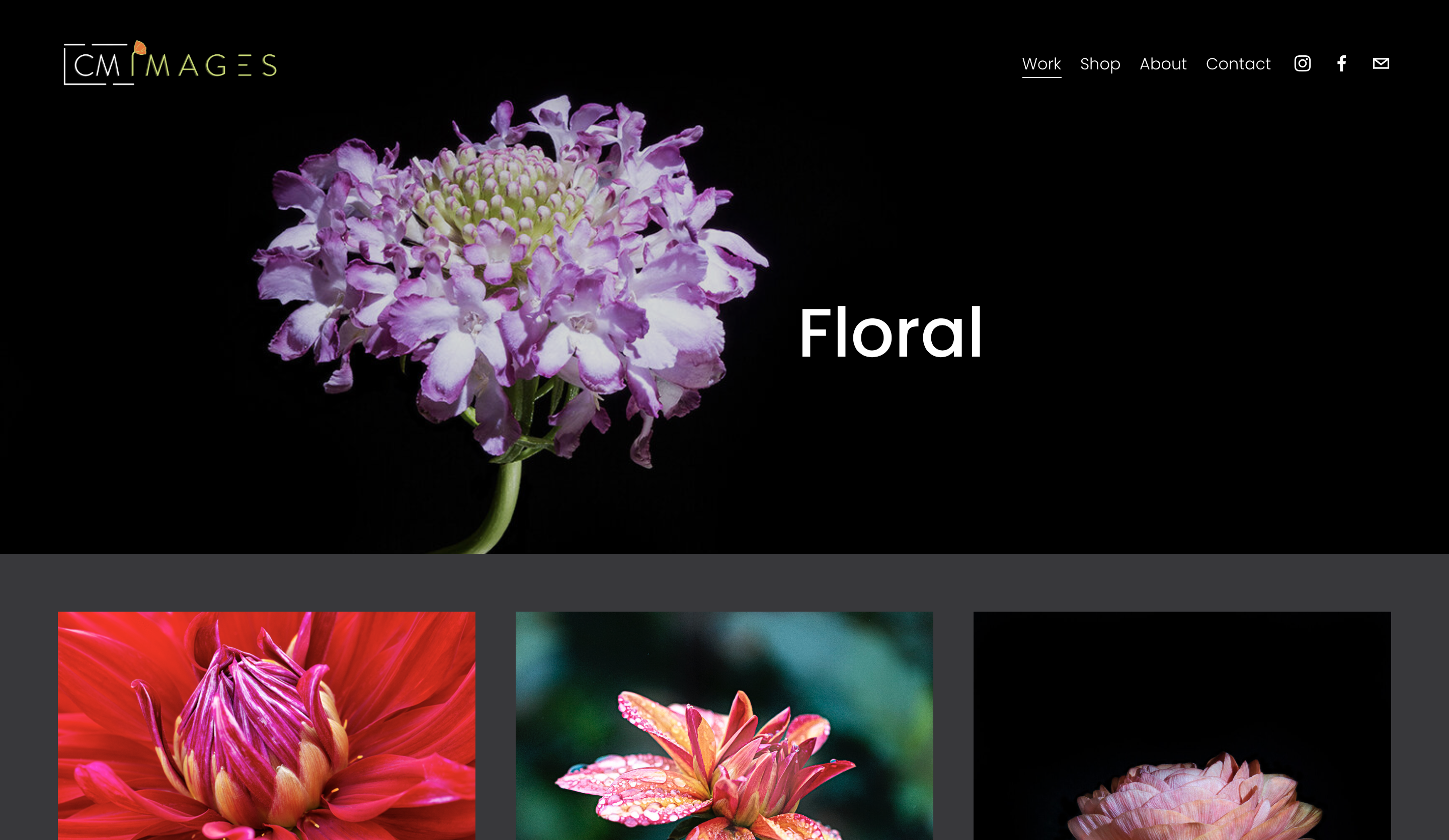 Hey there!
I'm a visual designer currently working for R/GA's Austin office working on brands like Samsung, Tonal, Nike, and Patreon. I'm passionate about how human interaction plays into design whether it's through brands, interfaces, or experiences. In this ever changing world I believe design has never been more important. When I'm not designing you can find me outside hiking, baking or reading a good book. I love collaborating so feel free to contact me below.